Introducing…The Peekers by Elisabeth Bell for SCACD Stamps!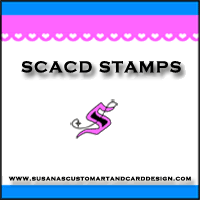 The Quixotic Paperie design team have once again joined forces with the SCACD design team for this blog hop to celebrate the release of THE PEEKERS by Elisabeth Bell. We think you'll agree, these are some of the most adorable images by Elisabeth Bell, truly capturing the mischief and innocence of childhood.
There are FIVE adorable Peekers in this release, and they are available either individually or as a full set at a special discounted price!
If you're in the UK/Europe you can buy the stamps NOW at Quixotic Paperie.
If you're in the US you can buy the stamps NOW at Susana's Custom Art & Card Design
On to the hop!
If you have hopped on over here from Mary Lou's Blog then you are on the right track, if not then the first blog on the hop you need to go to is Kim G's Blog – Crafts By Kim.
For my make I have used Sweet Mischief Peeker
Yummy cake!
I've used the lovely Memory Box Pixie paper with Kraft card from my stash but Elaine has some of the Bazzill Kraft card in Quixotic Paperie if you are looking for some.
The next stop on your journey is Dianne's Blog.
Enjoy the hop!