Hi All, I thought I would do a bit of a news flash…
Have you seen that both Sugar Nellie and Elzybells Art Stamps are running December giveaways on their blogs?
I have some very exciting news too! I'm an Inky Impressions Inkette for the next three months 🙂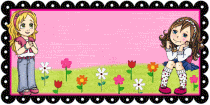 The other fabulous Inkettes are
Crystal Irwin – Senior Design Team Leader
But that is not my only news! I can't tell you much now…It is all hush, hush! But come back tomorrow to find out something that I think you will all be very excited about! I know I'm very excited! Tee Hee!
Oh and don't forget I have a gorgeous Whiff of Joy stamp still up for grabs.
Back later with a card (yep a Christmas card!).